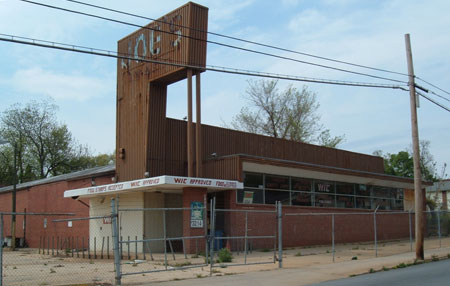 Ever since David posted
this feature
a dozen years ago, I've been captivated by this store design. Kroger was the chain that built these stores, and they built them in a very short window of time: 1953-54, give or take.
(Ever since David published that feature, I've
also
been referring to these buildings as "Black Widow Murderer Krogers." He's ruined me for life.)
Meanwhile,
Center Line
is a small city in Macomb County, Michigan completely encircled by Warren...an ex-township that incorporated in 1957, precluding Center Line from any further expansion. I happened upon a low-tech local history website titled
"Through the Years - a Photographic History of Center Line, Michigan"
, and was interested to see that it contained a vintage photo of an identical Black Widow Murderer-type Kroger store:
http://centerline.grobbel.org/wes/10mil ... _1960s.jpg
This store stood on the north side of 10 Mile Road just west of Van Dyke Avenue, and Historic Aerials corroborates this. Unfortunately, Historic Aerials also revealed that this store was demolished by 1973 in the name of highway widening. David and I passed through this intersection as we traversed the Detroit Metro last month, and there's certainly nothing to see there now.
A few other grocers have staked a place in Center Line over the years:
A&P
and
Chatham
both opened modern stores around the Van Dyke-10 Mile intersection in the 1970s, filling the void left by Kroger. Although the store buildings of both still stand, neither are selling groceries today, and Center Line is now utterly devoid of supermarkets. Most "big box" merchants moved to Warren as they opened bigger stores on emptier pastures, from the 1960s on.