I recently had a chance to go back to West Virginia for a few days, and came across this bizarre Frankenstein-like spectacle of a store in St. Albans while I was there: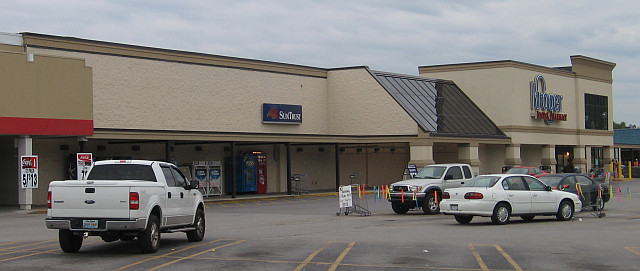 Evidently, this was built as a Kroger superstore/SupeRx pair in the 1970s. Then in the 1980s, the Kroger half was either razed and rebuilt or expanded and renovated beyond recognition into a greenhouse store...leaving the SupeRx-turned-Revco-turned-CVS with superstore windows, superstore columns, and two covered-over archways' worth of a superstore parapet.
According to satellite imagery, this was a normal-looking greenhouse until not long ago. But now it's been renovated; 3/5 of the greenhouse glass has been covered over by a boxy facade, and 2/5 is still in place. Weird...
The rest of the shopping center has "turrets" at the ends topped by superstore-facade notches: