I don't have the best grasp on A&P Canada's 1950s and 1960s architecture. Many of the stores from that era in southwest Ontario have either been demolished or renovated beyond recognition. A&P Canada also had a reputation for being a quasi-independent corner of the A&P empire, with its own practices and store designs different from those of A&P US. Nevertheless, I've seen evidence that A&P did make limited use of the colonial/centennial store design in Canada. (I suppose they couldn't have gotten away with calling it "Early American.")
But
how many
A&P centennial stores exist in Canada? So far, I know of only
three
...
10341 Yonge St., Richmond Hill, ON
; photographed by David.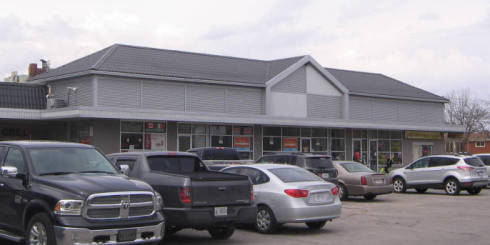 1050 Kipps Ln., London, ON
; photographed by me. This store appears to have had a short operational history, both coming and going within the duration of the 1970s.
1165 Oxford St. E., London, ON
. An "off-model" centennial with a central peak (and telltale A&P canopy braces), but no full-width pitched roof. The building was completely gutted to the bones a year ago, so I'll never get a better picture.
Are there any others? I'd get a kick out of seeing one of these buildings decked out as a Metro or Food Basics; though my hopes aren't high...