This is 1154 Hamilton Rd., London, ON. This store operated as a Dominion supermarket from the late 1950s to the early 1980s, likely closing either at the time of the 1985 A&P sale or in the wave of "Mr. Grocer" spin-offs that happened a couple years before that: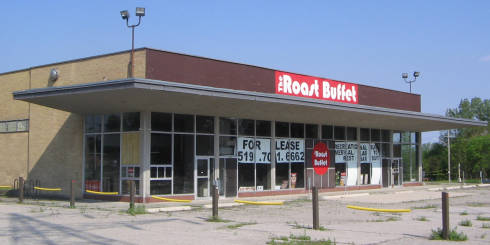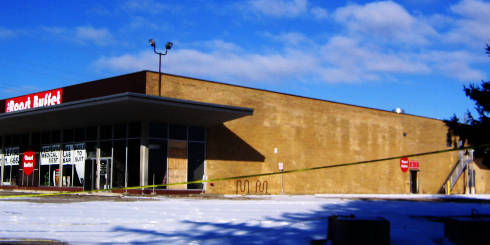 I'm a tad bit obsessed about this store.
First off, the building is in almost
completely
original condition, and has never been expanded. The 1950s modernist canopy is still intact, and so is the window work. A "Dominion" labelscar is even still visible on the south side.
Second off,
there were others like it
. Dominion301 has a 1957 opening shot of an nearly identical store on his Flickr page, location unknown:
I'd think this
was
a picture of 1154 Hamilton Road if the frontage had 18 panes of glass instead of 21. Seriously, that's the only difference!
And that's not all. A
third
identical Dominion store with identical windows and canopy stood in Chatham, and there's a picture of it
here
. (I believe this was the store at 351 Richmond, and it no longer stands.)
Part of the fun of supermarket chain research is the thrill of finding similar or identical buildings in vastly dissimilar places, and that certainly holds true here. What
other
identical late '50s Dominions might be out there?